Our Purpose
We are powered by kid heroes. Our organization is led by youth activists who raise awareness for seniors living in nursing homes. Why do they do this? Most people don't realize that 975,000 nursing home residents receive less than $500 a year for personal expenses. That's a $1.33 a day. Personal expenses include basics like haircuts, new clothes, shoes, phone and cable TV service and any favorite snack item like sodas. They are going without.  They skip haircuts to buy Dr. Pepper. Our youth is solving the problem by providing nursing home residents with small items they need to make life sweet AND teaching other kids across the world to do the same.
Our Story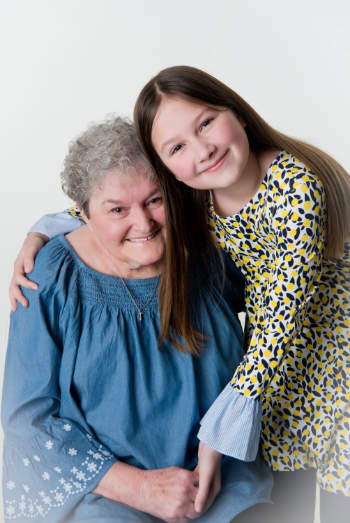 We're in the business of granting wishes. 
HOW IT BEGAN 
A message from our founder, Ruby Kate 
"Three Wishes for Ruby's Residents began as a kindness project that I started when I was 10 years old.  We help America's nursing home residents. Did you know we have 1.5 million humans living in nursing homes in the US? My project started small, at 4 nursing homes in Arkansas where my Mom works. I saw a resident, Pearl, lose her dog because she only received $40 a month to spend on personal expenses. You might be wondering what "personal expenses" are. I'll tell you. Personal expenses are haircuts, new clothes, new shoes, pet food/services/visits, outside snacks, phone and even cable TV service. 
I started a local fundraiser to help people like Pearl. I asked each resident, "If I could bring you any 3 things, what would they be?". You might think they would say a fancy car or vacation but they did not. They just asked for simple things that the rest of us either have or can easily go buy. They asked for new shoes, pants that fit, favorite fast food and fresh fruit. It didn't take me long to realize that there were almost a million people like Pearl in America trying to make ends meet with about $500 a year! I had almost $40 in my piggy bank and I wan only 10!! They were giving up their pets and skipping haircuts in order to keep their phones on. I knew I had to do something to help. I asked my family to help me launch a national fundraiser to help as many "Pearls" as I could. The rest is a giant part of our history. My fundraiser was a hit. I made the news around the world. I raised over $300,000 for my cause. CNN named me a "hero" and I received multiple national awards for my activism. One of my favorite moments was when they flew a US flag in my honor on a mission in Afghanistan!!! All of this hard work allowed me to officially make my kindness project a 501c3 in 2019 and that is when we officially became "Three Wishes for Ruby's Residents" 
Since that time we have granted over 3000 wishes! We have partnered with school districts to bring classrooms into the nursing homes. We created clothing and shoes closets and a free haircut program. We also put computer stations inside the nursing home so residents can connect with loved ones near and far. It doesn't stop there. We have built libraries and initiated a senior pet program! We also built a community center in our hometown that offers programs that connect young and old. Nationally, we created a "Wish Project" kids can do in classrooms anywhere and started a mail program to mail seniors postcards of kindness from all over the world. We are busy. The best part is that over 80% of our projects are led by youth just like me. Our goal is to teach other kids how to do this around the country." Ruby Kate 
We are changing lives and we want to teach others to do this across the globe. Like Ruby says, "Kindness is my hobby" and it can be yours, too.
Ruby's Pledge for Three Wishes Volunteers
I will do my best to be:
Blind to everything but my small role in the facility,
Kind and Respectful to all that I encounter,
Responsible for my actions and words,
Aware of the tender feelings of others,
An inspiration to others through my actions today,
Leave the nursing home with more joy than I found it.
Our Financials
Here is a snapshot of how we spent our funds in 2019.
We have just filed our 990 and will post soon